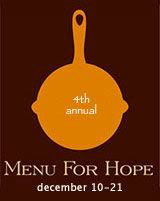 I have been asked by Jeanne of
Cook Sister
, to promote the UK section of the fund raising exercise, Menu for Hope, and post a link to the
prizes available
.
Menu For Hope, for those in the dark, is a world-wide fund raising event where various prizes are put up for auction. It was the brainchild of Pim of Chez Pim and involves bloggers and other donors from around the world each give something to be raffled off online for the benefit of the UN World Food Programme charity.
This year's campaign runs from 10-21 December and all the funds raised will be allocated to a school feeeding programme in Lesotho.
There is a hugly tempting array of prizes for the UK section. These range from food hampers and cookery books though to Dinner for two at Patterson's restaurant in London and a Sourdough Bread Baking Starter Kit.
Anyone can buy tickets to try for one of these prizes -
1. Choose the prize or prizes of your choice from the main Menu For Hope site. (This is the global list of all prizes donated this year. Alternatively, you can see only the UK prizes on Cooksister or The Passionate Cook.) You must make sure to check the terms and conditions for the individual prizes BEFORE you bid, as some will come with restrictions regarding where they ship to or how long the prize is valid for.
2. Go to the donation site and make a donation. The hosts do not handle the cash at all - it goes directly to Justgiving to be passed on to the World Food Programme.
3. Please specify the prize code of the prize you'd like in the 'Personal Message' section in the donation form when confirming your donation. Each $10 you donate will give you one raffle ticket toward a prize of your choice. If you are buying more than one ticket, please indicate how you would like the tickets to be allocated. For example, a donation of $50 can be 2 tickets for EU01 and 3 tickets for EU02. Please write 2xEU01, 3xEU02.
4. If your company matches your charity donation, please check the box and fill in the information so we could claim the corporate match.
5. Please check the box to allow us to see your email address so that we could contact you in case you win. Your email address will not be shared with anyone.