I bake bread at least 4 or 5 times a week, so it's only fitting that I participate in an event to celebrate
World Bread Day,
being hosted by Zorra of
Kochtopf
.
Check out the final round up of
all the entries here.
As I have a lot of other things going on in my life, I tend to utilise the bread machine a fair bit, mainly for kneading the bread.
In a typical week, I usually make several French breads, a batch of my husband's favourite
buns with berries and cherries
, some loaves and plenty of rolls for the boys to take to school for lunches. Sometimes I make sweet rolls for breakfast, they are perfect with a cup of tea or coffee.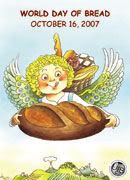 Breakfast Swirls
1 teaspoon quick-rising yeast
9 oz strong white bread flour
2 oz sugar
½ oz unsalted butter
½ teaspoon salt
1 large egg
4-5 tablespoons milk
1 beaten egg to glaze
Icing sugar for dusting
Put all the ingredients into the bread machine in the correct order for your machine.
When it comes to the milk, you may need less or more, keep an eye on it and add as necessary to make a smooth, soft dough.
When the dough is ready, cut it into about 9 pieces and roll each one into a long thin rope, about 13-15 inches long.
Curl them into loose spirals, place on a baking sheet and tuck the ends under.
Cover and leave to rise until they have doubled in size, brush with beaten egg and bake in a pre-heated oven 350ºF for about 12-14 minutes.
Dust with icing sugar and serve warm.
(Printable Recipe)