With the garden produce in full swing, there is nothing like picking your own fruit and veg.
Now, I'm going to have to admit that I can't really take all the credit for the fruit and vegetables in the garden. My husband is the one who lovingly planted the seeds and did all the potting on, my job was to make sure that everything was well fed, watered and happy. The results of which are healthy, nutritious, organic delights.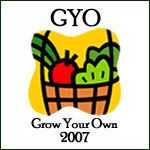 When I noticed that Andrea from
Andrea's Recipes
was hosting an event entitled
'Grow Your Own',
I knew I was going to have a fight on my hands. My veggies started to throw themselves at me as I tried to make up my mind what to select. In the end, I picked a cucumber - we had just had a day trip to France and some soft cheese that I had bought would be the perfect accompaniment.
The result was crisp, cool little nibbles, perfect for a warm summer evening.
Boursin, Tomato and Cucumber Nibbles
Amounts are approximate because it depends on the size of the cucumber. I used Boursin cheese, but you can use any cream cheese - one with herbs would be good.
1 small cucumber, or half a long one
100g Boursin, or cream cheese
Fresh basil leaves
Semi dried tomatoes in olive oil, sun blushed tomatoes or even half a cherry tomato
Cut the cucumber in half length-ways and slice a little off the bottom to make it sit flat on the plate.
Scoop out the seeds and discard them.
Fill the hollow of the cucumber with the Boursin/cream cheese, smooth top with a knife.
Cut the cucumber into bite sized pieces and top each one with a basil leaf and a tomato. Secure with a cocktail stick.
Drizzle with some of the olive oil from the tomatoes.
Chill until ready to serve.
(Printable Recipe)